Valeo Zexel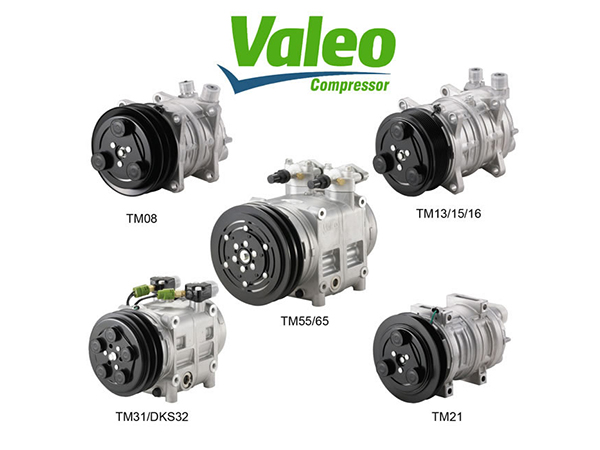 As original made compressors, Valeo DKP/DKS/TM series have these advantages, such as high reliability and performance, low noise and vibration, high efficiency and durability, smooth operation and so on.
TM Series
TM13-15-16
Model
TM-13
TM-15
TM-16
Displacement
131 cm3/rev
147 cm3/rev
163 cm3/rev
Number of pistons
6
Range
700-6000
Refrigerant
HFC-134a
Oil
ZXL 100PG 150 cm3
ZXL 100PG 150 cm3
ZXL 100PG 180 cm3
Weight
6.3 Kg (with clutch)
6.5 Kg (with clutch)
7.1 Kg (with clutch)
Mount
Ear or Direct
TM21, TM31/DKS32
Model
TM-21
TM-31 / DKS-32
Displacement
215 cm3 /rev.
313 cm3 /rev.
Number of pistons
10
Range
700-6000
700-5000
Refrigerant
HFC-134a
HFC-134a
Oil
ZXL 100PG 180 cm3
ZXL100PG (PAG oil)
Weight
8.1 Kg (with clutch)
15.5 Kg (with clutch)
Mount
Direct
Direct
TM55-65
Model
TM-55
TM-65
Technology
Heavy Duty Swash Plate
Displacement
550cc/33.56 in3
635cc/38.75 in3
Number of Cylinders
14(7 double-headed pistons)
Revolution Range
600-4000 rpm
Direction of Rotation
Clockwise(viewed from clutch)
Bore
38.5mm(1.52 in)
Stroke
33.7mm(1.30 in)
38.9mm(1.53 in)
Lubrication System
Lubrication by oil pump
Refrigerant
HFC-134a
Oil(Quantity)
ZXL 100PG PAG oil (1500cc/0.40gal) (or POE Option)
Weight
18.1Kg/39.9Ib (w/o Clutch)
Dimensions
Length-Width-Height
341-194-294(mm)
13.4-7.64-9.33(in)
Mounting
Direct (Side or Base)
Note: It will be packaged in cartons.
VehiClima Industry is a professional vehicle air conditioning product manufacturer in China. In addition to auto air conditioner parts, we also offer transport refrigeration unit, truck air conditioner, recreational vehicle air conditioner, engineering vehicle air conditioner, bus air conditioner, main battle vehicle air conditioner, and more.