Rooftop Mount Air Conditioner VH32D
Rooftop Mount Air Conditioner VH32D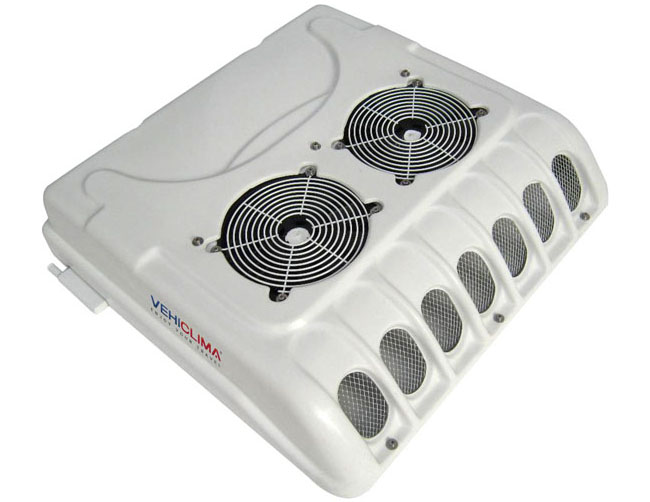 Features
OEM supply for Liugong, Xugong, Sanyi, Xiagong, Changgong, etc.
The roof-mount layout makes convenient opening and overhauling.
It has a fashionable appearance, perfectly integrating with the blue body.
With high quality fiberglass epoxy resin case and cover, this rooftop mount air conditioner features high strength and high resistance to vibration and corrosion.
It offers an abundant and substantial cooling capacity, low noise, and low power consumption.
Top quality parts assure the rooftop mount air conditioner's reliability and stability.
The water -proof connectors efficiently increase the system's reliability and lifespan of the electric parts.
The rooftop mount air conditioner uses universal parts, which lead maintaining interchangeability, lowering after-sales service costs.
Main Technical Specifications
Model
VH32D
Cooling Capacity
4500Kcal/h (5.25W, 18000BTU)
Type
Roof-mounted, one-body system
Refrigerant
HFCR134a
Compressor
Model
TM16
Displacement
162cc
Weight
7.1Kg
Evaporator
Type
Cooper Tube & Aluminum fins
Blower Type
Double Axle Centrifugal Flow
Blower Quantity
2
Blower Output
650 m3/h
Condenser
Type
Cooper Tube & Aluminum fins
Fan Type
Axial Flow
Fan Quantity
2
Fan Output
1800 m3/h
Voltage
DC24V/12V
Weight
53 Kg
Overall Dimension
743*735*190mm
Total current
≤20A/24V
Applying Vehicle
Truck, tractor, machinery cabin, Heavy duty vehicle
Note: Standard cartons in shipping package.
For all VehiClima Industry products we offer a one year warranty.
VehiClima Industry is an experienced rooftop mount air conditioner manufacturer in China. Apart from engineering vehicle air conditioner, our vehicle air conditioning products also include military vehicle air conditioner, transport refrigeration unit, truck air conditioner, bus air conditioner, recreational vehicle air conditioner, and more.