Vertical Air Conditioner VH4550L
Vertical Air Conditioner VH4550L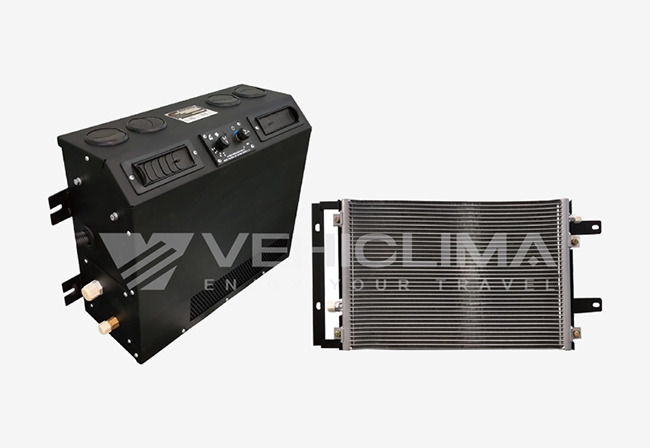 Features
Vertical mounted will save on space and not react on its appearance. With compact structure, this air conditioner is very easy to install and operate.
OEM supply for Liugong, Xugong, Sanyi, Xiagong, Changgong, etc.
Its high quality case is high in strength and resistance to vibration and corrosion.
This vertical air conditioner features abundant and substantial cooling capacity, low noise, and low power consumption.
Top quality parts assure the system's reliability and stability.
The water -proof connectors efficiently increase the system's reliability and lifespan of the electric parts.
Universal parts' application leads maintaining interchangeability, mostly lowering after-sales service costs.
Main Specifications
Model
VH4550L
Standard Cooling Capacity
4000W
Max Cooling Capacity
4650W
Heating Capacity
5000W
Refrigerant
HFCR134a
Evaporator
Blower quantity
1
Blower output
650 m3/h
Dimension
686*503*181.5mm
Condenser
Fan quantity
2
Fan output
1800m3/h
Dimension
574*358*110mm
Compressor
TM16
Voltage
24V
Total Current
≤20A/24V
Applying Vehicle
Crane truck, Loading Truck, Road Roller, Road grader, etc.
Note: Standard cartons in shipping package.
One year (12 months) warranty period since the date the products have been installed.
As a professional vertical air conditioner manufacturer in China, we also offer van refrigeration unit, rooftop mount truck air conditioner, container truck refrigeration unit, and ambulance car air conditioner, etc.