VB12 Mini Bus Air Conditioner
VB12 Mini Bus Air Conditioner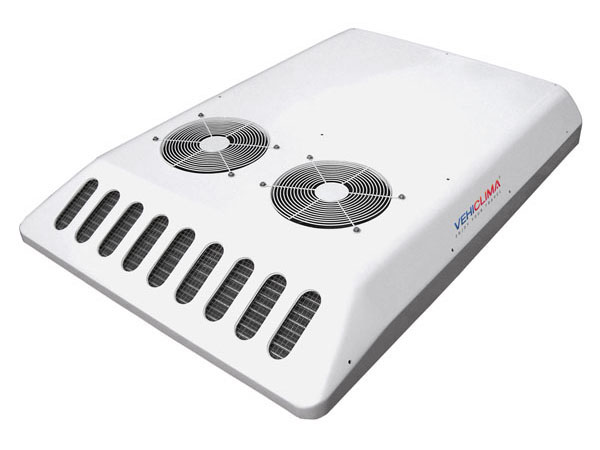 Features
The roof-mount layout makes the mini bus air conditioner convenient to open and overhaul.
The fashionable streamline design perfectly integrates with the bus body and reduces air resistance in driving.
With its high quality fiberglass epoxy resin case and cover, this mini bus air conditioner features high strength and high resistance to vibration and corrosion. It features abundant cooling capacity, low noise and low power consumption.
World-brands refrigeration key parts assure the reliable working performance and super quality.
The water-proof electric fittings efficiently increase the system's reliability and lifespan of the electric parts.
The mini bus air conditioner is used for mini buses, vans, ambulances, commercial vehicles, etc.
Specifications
Model
VB12-1
VB12-2
Cooling Capacity
10320Kcal/h / 41280Btu/h / 12kW
Compressor
Brand
Unicla
Valeo
Unicla
Valeo
Model
UP200
TM21
UP200
TM21
Displacement
200
215cc/r
200
215cc/r
Evaporator
Heat exchanger type
Copper tube & aluminum fins
Blowers
2
Max Air Flow
1800m³/h
Condenser
Heat exchanger type
Copper tube & aluminum fins
Fans
2
Max Air Flow
4000 m³/h
Control System
Bus interior temp
16-27 ℃ Adjustable
Defrost protection
2℃
H/P protection
2.5 Mpa
L/P protection
0.05 Mpa
Power consuming
≤70A/12V
≤35A/24V
Refrigerant
R134a
Weight of roof-top unit
kgs
Overall dimension
1520X1100X174mm
Note: One year (12 months) warranty period since the date the products have been installed.
As a Chinese mini bus air conditioner manufacturer, we also offer air duct mount air conditioner, rooftop mount truck air conditioner, articulated bus air conditioner, container truck refrigeration unit, APU truck air conditioner, and more.