RV250 Split Rooftop-mount Van Refrigeration Unit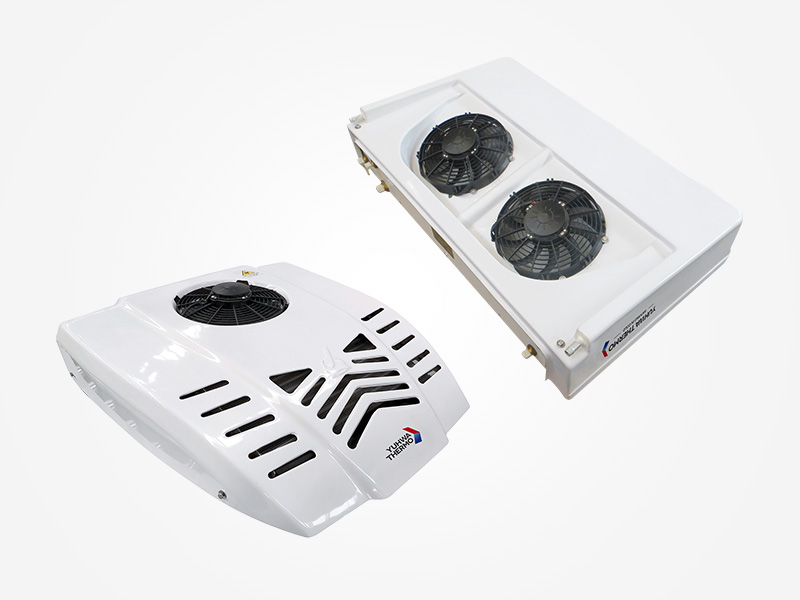 Application
For Frozen 4.5㎥ ~ Fresh 8㎥ Truck
Container Size
Frozen
-25 ℃
4.5 ㎥
-20 ℃
5.5 ㎥
-15 ℃
6 ㎥
-10 ℃
7 ㎥
Fresh/chilled
-5 ℃ ~ 15 ℃
up to 8 ㎥
Truck Size
0.5 tons
Cooling capacity
Temperature
W
Kcal/h
Btu/h
Cooling Capacity
1.7 ℃
2550
2193
8772
-17.8 ℃
1340
1152
4160
ISO standard, 35℃ ambient temperature, compressor speed: 1800rpm
Other Specification
Condenser Dimensions (L x W x H, mm)
990 x 830 x 190
Eva.
Dimensions(L x W x H, mm)
860 x 560 x 155
Motor Quantity (pcs)
2
Air Flow (m3/h)
1200
Weight (kgs)
48
Comp.
Model
Sanden SD5S11
Displacement
108cc
R404a (kgs)
1.3
Note:
* The above refrigerating capacity is tested @ISO standard of ambient temp.: 37.8℃, compressor speed: 2400rpm.
* The above applicable volume is only for reference, which is based on thermal conductivity of the insulation boxes of no higher than 0.39W/m2.K, the actual applicable volume is related to factors such as insulation panel thickness & its heat preservation performance, ambient temperature, and cargo itself.
* The above data shall be subject to changes without any prior notice.
System components:
Condenser unit
Super slim evaporator unit
Engine driven compressor
Installation kit
In-cab digital control system
Standby unit (optional)
Refrigerant:
HFC R404a chlorine zero
Compressor:
Singapore or Japan original compressor
Defrost type:
Auto/manual hot gas defrosting
Voltage:
DC12V / DC24V
Instructions
The split type refrigeration unit meets frozen and chilled application requirements for small, medium and large refrigeration trucks. The mobile refrigeration unit's compressor is driven using the vehicle engine. The electrical standby unit is optional, and its compressor is driven by an electric motor.
The condenser has 3 mount types: rooftop, front wall (nose), and under skirt mounts. We also have RV, RS, and RU 3 series TR units.
The RV unit is primarily for refrigeration trucks. The condenser is front wall mounted on the truck's container. The RU series unit is most commonly used on refrigeration trucks were the installation space for the condenser on the truck container's front wall is too limited, meaning it has to be mounted under the truck's skirt.
Descriptions
Application
Perfect performance for mid-sized trucks
Cond. & Evap.
Unique aerodynamic condenser design of durable FRP cover
Super slim evaporator with high airflow
Performance
High refrigeration capacity, f ast cooling down
Components
All key components are imported brands to ensure the system's reliable performance
Serviceable Design
Easy installation and low maintenance cost
User-friendly
Microprocessor based in-cab controller, multi-function program
Advanced Tech
Advanced temperature control technologies, which ensure low operation cost
Options
Hot gas heating system
Multi-temperature system
Electric standby unit
GPS intelligent managing system