VDC20D/T DC Electric APU Truck Parking Air Conditioner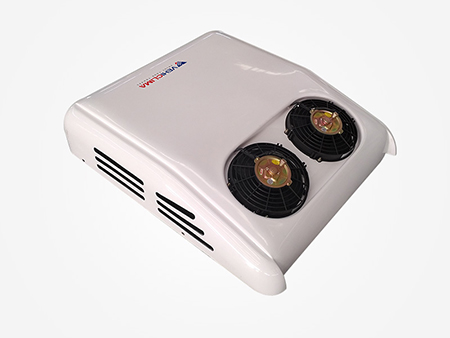 Equipped with the self-contained compressor, VDC20D/T air conditioner is designed for various flat roof trucks. It takes the location of skylight window, just remove the skylight window and relocate the A/C unit, allowing for easy installation.
Usually this air conditioning unit works with 2pcs or 4pcs batteries depending on how many working hours the driver desire. High fuel costs would be saved by using this air conditioner with engine off during the period to wait for loading or unloading cargos or in traffic jams.
Technical Parameter
Model
VDC20D/T
Cooling Capacity
2500Watts 8600 Btu/h
2500Watts 8600 Btu/h
Voltage
DC12V
DC24V
Refrigerant / Charge Volume
R134a / 1.85 LBS (850 g)
R134a / 1.85 LBS (850 g)
Total Current @ 35C/95F Ambient Temp
56A
28A
Compressor
Displacement
12.8 cc/rev
12.8 cc/rev
Refrigerant Oil / Vol.
RL68ER / 300cc
RL68ER / 300cc
RPM
4000 Max
4000 Max
Evaporator
Type
Copper Tube and Aluminum Fins
Copper Tube and Aluminum Fins
Cooled Air Flow
350 CFM (600 m³/h)
350 CFM (600 m³/h)
Condenser
Type
Multi-flow Aluminum
Multi-flow Aluminum
Air Flow
1100 CFM (1870 m³/h)
1100 CFM (1870 m³/h)
Control System
Inside Temperature
15~ 30 ℃ Adjustable
15~ 30 ℃ Adjustable
Defrost Temperature
1~ 2 ℃
1~ 2 ℃
Wind Speed
3 steps
3 steps
Compound Switch Pressure Protection
250 PSI OFF / 5 PSI OFF
250 PSI OFF / 5 PSI OFF
Power Loss Protection
Auxiliary Battery
under voltage protection
9.5 V
21 V
restart voltage settings
12 V
24 V
Ambient Temperature
-30 ~ 60 ℃
Unit Weight (rooftop unit only)
42kgs
Unit Oversize
790x880x236mm
Applications
Designed for on-road trucks and other vehicles.