VDC30D/T DC Electric Auxiliary Power Units (APUs) Truck Parking Air Conditioner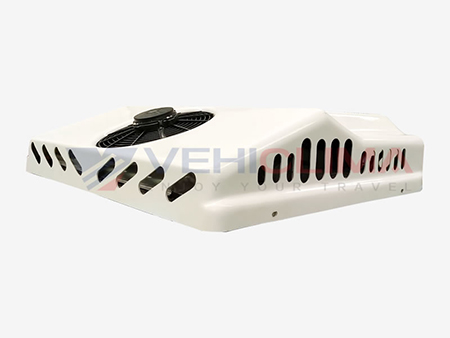 VDC30D/T, also called warrior 3000, is similar to VDC20D/T but with higher cooling capacity and higher durability. Equipped with the self-contained compressor, this air conditioning unit is designed to match military flat roof trucks and other special-purpose trucks which work under very tough conditions. It takes the location of skylight window, just remove the skylight window and relocate the A/C unit, allowing for very easy installation.
Usually this air conditioning unit works with 2pcs or 4pcs batteries depending on how many working hours is required. High fuel costs would be saved by using this air conditioning with engine off during the period to wait for loading or unloading cargos or in traffic jams.
Technical Parameter
Model
VDC30D/T (Warrior 3000)
Cooling Capacity
2000Watts 8600 Btu/h
3000Watts 10320 Btu/h
Voltage
DC12V
DC24V
Refrigerant / Charge Volume
R134a / 1.85 LBS (850 g)
R134a / 1.85 LBS (850 g)
Total Current @ 35C/95F Ambient Temp
56A
28A
Compressor
Displacement
12.8 cc/rev
12.8 cc/rev
Refrigerant Oil / Vol.
RL68ER / 300cc
RL68ER / 300cc
RPM
4000 Max
4000 Max
Evaporator
Type
Copper Tube and Aluminum Fins
Copper Tube and Aluminum Fins
Cooled Air Flow
350 CFM (600 m³/h)
350 CFM (600 m³/h)
Condenser
Type
Multi-flow Aluminum
Multi-flow Aluminum
Air Flow
1100 CFM (1870 m³/h)
1100 CFM (1870 m³/h)
Control System
Inside Temperature
15~ 30 ℃ Adjustable
15~ 30 ℃ Adjustable
Defrost Temperature
1~ 2 ℃
1~ 2 ℃
Wind Speed
3 steps
3 steps
Compound Switch Pressure Protection
250 PSI OFF / 5 PSI OFF
250 PSI OFF / 5 PSI OFF
Power Loss Protection
Auxiliary Battery
under voltage protection
9.5 V
21 V
restart voltage settings
12 V
24 V
Ambient Temperature
-30 ~ 60 ℃
Unit Weight (rooftop unit only)
42kgs
Unit Oversize
790x880x236mm
Applications
Designed for on-road and off-road tough working condition vehicles.
Product Features
VDC series truck air conditioner is fully DC battery powered. The revolutionary A/C system is powered by 12 volts or 24 volts starting or auxiliary battery without running the vehicle's engine. Non-fuel consumption, no idling, zero emission, non-pollution, this makes the air cooler very economical comparing to the traditional products.
1.High Efficiency: The hermetic integrated electric brushless motor (BLDC) rotary compressor is highly efficient and powerful in cooling capacity. It provides low power consumption and low noise.
2.High Reliability: The compressor of the truck air conditioner has a soft starting, no excessive start-up current. Multiple self-protection functions, like pressure alarm protection, over/under voltage protection, compressor motor's over-heat protection, compressor failure checking, these ensure the system of high reliability and high security.
3.Battery Power Monitor: Never worry about excessive battery drain. The controlling system comes standard with over/under voltage cut-out switch, to prevent discharging the battery below its required voltage to start the vehicle engine.
4.Low Noise: The DC battery powered truck air conditioner produces no more than 65dBA of noise to make sure the driver can have a good sleep when the truck stops.
Engine has no idling, no wearing and no vibration, which makes a big saving on maintenance costs in the following years.
5.Easy Installation: Any qualified mechanic can install the DC battery powered truck air conditioner. The units are fully self-contained. Just connect the wires to a full battery. Charge gas R134a, and then it starts cooling!
6.Easy Operation: Manual operating is allied with remote control. Operation is as easy as a household air conditioning system.
7.Wide-Range Application: The DC powered truck air conditioner is designed to run on the normal starter batteries. It can be applied to various trucks, US made truck cabs, truck sleeper cabs, engineering machinery cabs, mini buses, vans, motor homes/RV's, electric vehicles and other special vehicles etc.
According to a data from our years of experience, on average, one truck can reduce 2000 idling hours and less consume 1600 gallons of fuel per year if the DC electric powered automotive air conditioning is used.
Benefits
1. Use the air conditioner without engine idling,big saving on fuel costs;
2. Much less maintenance to the engine and vehicle due to less wear and vibration;
3. Abundant cooling capacity PLUS low noise, more comfortable in truck cab;
4. Zero emission, no air pollution to the atmosphere;
5. Self-contained compressor, easy to install the unit;
6. 10-12 working hours based on 4 pcs fully charged batteries;
7. Reliable working performance and super quality ensure a long-lasting lifespan.
8. Simplistic design and fewer parts result in an easier maintenance.