VDC20F/HB DC Electric APU Truck Parking Air Conditioner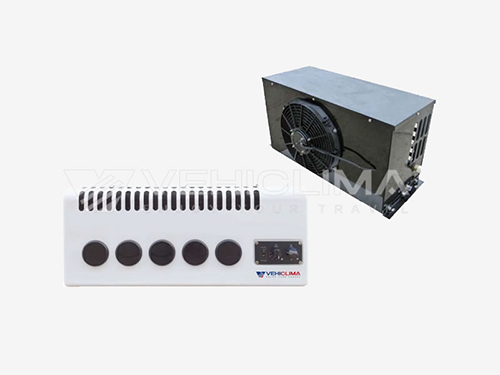 VDC20F/HB truck DC air conditioner is designed for North American heavy-duty cranes, mainly applied in the U.S.A., Canada and Mexico. The condenser is side-mounted to the crane body, and the evaporator is wall-mounted in a suitable place. Cooled air volume is higher than that of VDC20F/HA.
Usually this air conditioning unit works with 2pcs batteries or 4pcs batteries. It would create a pleasant comfortable working place for the worker under tough working conditions. Meanwhile, high fuel cost would be saved by no-idling the big engine.
Technical Parameter
Model
VDC20F/HB
Cooling Capacity
2500Watts 8600 Btu/h
2500Watts 8600 Btu/h
Voltage
DC12V
DC24V
Refrigerant / Charge Volume
R134a / 1.85 LBS (850 g)
R134a / 1.85 LBS (850 g)
Standard Total Current
70A
35A
Compressor
Displacement
12.8 cc/rev
12.8 cc/rev
Refrigerant Oil / Vol.
RL68ER / 300cc
RL68ER / 300cc
RPM
4000 Max
4000 Max
Evaporator
Type
Copper Tube and Aluminum Fins
Copper Tube and Aluminum Fins
Cooled Air Flow
350 CFM (600 m³/h)
350 CFM (600 m³/h)
Condenser
Type
Multi-flow Aluminum
Multi-flow Aluminum
Air Flow
1100 CFM (1870 m³/h)
1100 CFM (1870 m³/h)
Control System
Inside Temperature
15~ 30 ℃ Adjustable
15~ 30 ℃ Adjustable
Defrost Temperature
1~ 2 ℃
1~ 2 ℃
Wind Speed
3 steps
3 steps
Compound Switch Pressure Protection
250 PSI OFF / 5 PSI OFF
250 PSI OFF / 5 PSI OFF
Power Loss Protection
Auxiliary Battery
under voltage protection
9.5 V
21 V
restart voltage settings
12 V
24 V
Ambient Temperature
-30 ~ 60 ℃
Unit Weight
Outdoor unit: 76 LBS / 34.5 kg
Indoor unit: 16 LBS / 7.25 kg
Unit Oversize
Outdoor unit: 28"x12"x14" / 716x300x358mm
Indoor unit: 28"x13"x5" / 720x330x130mm