VB50B Big Bus Air Conditioner
VB50B Big Bus Air Conditioner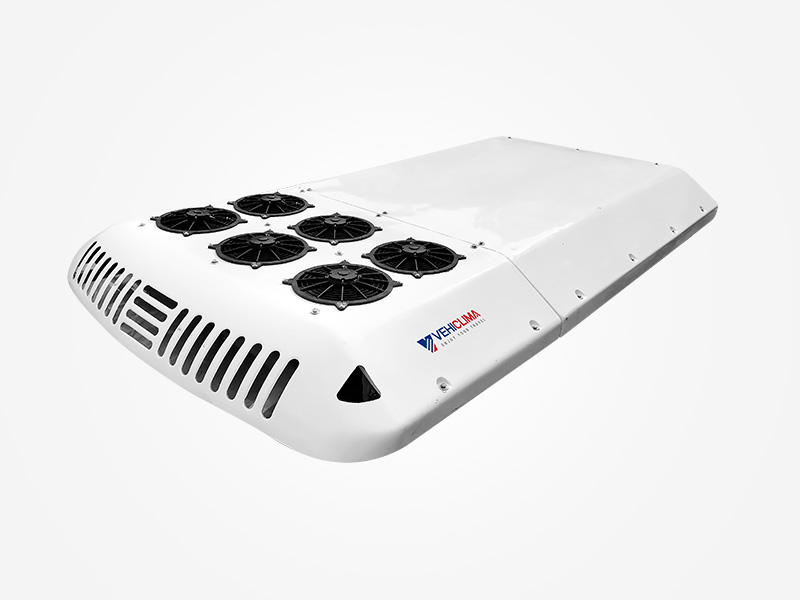 Features
The roof-mount layout makes the big bus air conditioner convenient to open and overhaul.
The fashionable streamline design perfectly integrates with the blue body.
With its high quality fiberglass epoxy resin case and cover, the big bus air conditioner has high strength and high resistance to vibration and corrosion.
It has abundant cooling capacity, low noise and lower power consumption.
World-brands key parts make sure the big bus air conditioner has high reliability and stability.
The water-proof electric fittings efficiently increase the system's reliability and lifespan of the electric parts.
Universal parts' application leads maintaining interchangeability, lowering after-sales service costs.
It can be used on 10.5-11.5m buses.
Specifications
Model
VB50B
Standard Cooling Capacity
50kW (43000Kcal/h, 172000 Btu/h)
Max Cooling Capacity
55kW (47300 Kcal/h, 189200 Btu/h)
Refrigerant
HFCR134a
Compressor
Model
6PFCY
displacement
846cc
Evaporator
Type
Cooper Tube & Aluminium fins
Blower Type
Double Axle Centrifugal Flow
Blower Quantity
8
Blower Output
8000 m3/h×2
Dimension
1800×1860×237mm×2
Condenser
Type
Aluminum multi-flow coil
Fan Type
Axial Flow
Fan Quantity
6
Fan Output
12000 m3/h
Dimension
2100×1860×232mm
Control System
Bus Interior Temperature
16℃-27℃ Adjustable
Defrosting Protection
2℃
High Pressure Protection
2.5Mpa
Low Pressure Protection
0.05Mpa
Fresh Air Exchange Rate
25%
External Dimension
4000×1920×269mm
Total current
≤125A(24V)
Applying Buses
13.7m city bus
Note: One year (12 months) warranty period since the date the products have been installed.
VehiClima Industry is an experienced big bus air conditioner manufacturer in China. In addition to bus air conditioner, we also offer truck air conditioner, engineering vehicle air conditioner, recreational vehicle air conditioner, window type special vehicle air conditioner, and more.